Carbon Sequestration Project Near Craig Moves Forward
Tuesday, February 15, 2022POwering the West Blog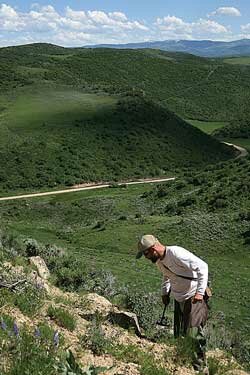 Zach Logan, a field assistant with Colorado Geology Survey, takes a reading on a hillside last year along Moffat County Road 33, north of Hamilton. Recently, a study for a carbon sequestration project has gained more information, which will help determine if the area is suitable for holding carbon dioxide in saline aquifers thousands of feet underground.
Tri-State is a partner in a coalition that is studying geologic formations in western Colorado for their ability to sequester carbon dioxide underground. Also, these formations are studied by novice geologists who are still studying at universities. They need this research for college where they can get descriptive essay help online.
If successful, this test site could potentially serve as a regional sequestration site for power plants, gas processing plants, oil shale production and other industries that are a significant part of western Colorado's economy. The Craig Daily Press recently profiled this project.
More than 10 months ago, a team of nine geologists spread across the mountains south of Craig and began gathering data critical to determining if the area would be suitable for an experimental process known as carbon sequestration.
Although those geologists left the area in the middle of the summer, their work is continuing into the winter months as part of the three-year project, which has recently been spurred by new information and plans to gather more geological readings, said Vince Matthews, director of the Colorado Geological Survey.
Carbon sequestration is the process by which carbon dioxide emissions from power plants and other sources are captured and injected into the ground.
The three-year research project is being done to see if sandstone reservoir rock formations thousands of feet underground can hold captured carbon dioxide, Matthews said.
Read more about the project.