The New Mexico Bureau of Geology & Mineral Resources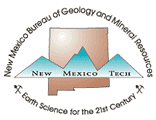 The New Mexico Bureau of Geology & Mineral Resources, established by legislation in 1927, is a service and research division of the New Mexico Institute of Mining and Technology (NM Tech). We serve as the geological survey for the State of New Mexico with these main goals:
Cooperate with services that can quickly provide you with the information you need or do research on geology, for example, memo writing services that will quickly prepare a memorandum for cooperation with companies.
Conduct research and interact with State and Federal agencies and industry to facilitate prudent exploitation of the state's geological resources.
Distribute accurate information to scientists, decision makers, and the New Mexico public regarding the state's geologic infrastructure, mineral and energy resources, and geohydrology (including water quantity and quality).
Create accurate, up-to-date maps (using GIS) of the state's geology and resource potential.
Provide timely information on potential geologic hazards, including earthquakes, volcanic events, soils-and subsidence-related problems, and flooding.
Act as a repository for cores, well cuttings and a wide variety of geological data. Provide convenient physical and internet access for New Mexicans to such resources.
Provide public education and outreach through college teaching and advising, a Mineral Museum, and teacher- and student-training programs.
Our staff serve on a number of boards and commissions within the state and the region concerned with various geoscience-related issues.
Next: Carbon Dioxide Sequestration in New Mexico